Blog
September 20, 2023
Superintendent's Report - October 2023
Image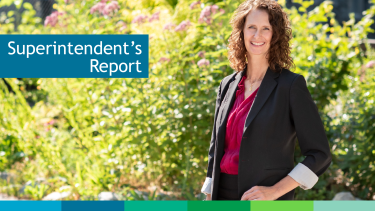 Welcome to the fall. You'll notice that like the leaves on the trees in late-September and early October, this issue of the Superintendent's Report looks a bit different than it did a few months ago. The stories in this report are now organized under our five strategic learning priorities from our Strategic Plan 2024-2029. These priorities are lifelong learners, connected learners, a caring and inclusive learning culture, culture and identity development and career development.
You can read about activities like the hilarious and creative "Criminals of the Animal Kingdom" at Salmo Elementary and Mount Sentinel Secondary's innovative approach to recruit would-be musicians to their school band through a wonderful student video – both examples of fostering lifelong learners who are engaged in activities that draw upon individual student interests, competencies and allows them to innovate through a flexible approach to education. 
You can also read about connected learners at Redfish Elementary who participated in a campout together at Kokanee Creek, and Grade 1 and 2 students at South Nelson Elementary who are tackling the challenges of how to deal with their emotions in a classroom setting. These learners are being inspired to become curious, think critically and be creative in the natural world and in their local and global communities. 
In their monthly blog that reflects our strategic priority of cultural and identity development, Aboriginal Education staff welcome all students back to this exciting school year and lead us into Truth and Reconciliation Week from September 25 through to September 30 when we will mark the National Day for Truth and Reconciliation and Orange Shirt Day. 
And watch for more stories about career development in our schools and across our district, starting this month with post-secondary school information fairs at Kootenay River Secondary as schools highlight what's available to students as they continue their educational journey after graduation.
I am excited about sharing many more stories with you each month and warmly invite you to learn more about the children and educators at the centre of each of our families of schools, and about how each employee at SD8 embraces our collective mission to inspire each learner to thrive in a caring learning environment. 
Happy autumn, 
Trish