Blog
May 3, 2023
Superintendent's Report - May 2023
Image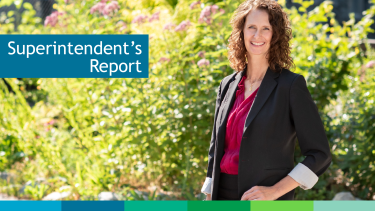 May 5 is the National Day of Awareness for Missing and Murdered Indigenous Women, Girls, and Two Spirit Peoples (MMIWG2S). It is also known as Red Dress Day. May 1 to 7 is the Canadian Mental Health Association (CMHA) Mental Health Week. May is also Mental Health Awareness Month across North America. This report includes articles related to each of these events.
Our Aboriginal Education Program has published an informative blog with facts about MMIWG2S as well as information about steps SD8 is taking to mark this day across our district. Two articles in this report focus on mental health awareness and actions happening in SD8 to address challenges students and families may face, and to work to remove the stigma around having conversations about mental health.
You can also read an excellent account by Kootenay River Secondary Grade 11 student Liberty Palmer, who describes how students at the school have supported one another in their mental health through the power of quotations, hoodies, and a unique "Mental Health Matters" initiative supported by the Aboriginal Education Program. 
You can also read about an amazing Nelson family, the Bennetts, and their collaboration with our district to hold an event at L.V. Rogers Secondary to promote mental health in schools and in the broader Nelson community, start a fund for mental health initiatives at L.V. Rogers, and support the LVR Girls Soccer Team who have taken an active role in organizing and running the event. 
Enjoy this report, and may you each have a chance to care for your own well being and those of your colleagues, families and friends. 
Trish