Blog
March 8, 2023
Superintendent's Report - March 2023
Image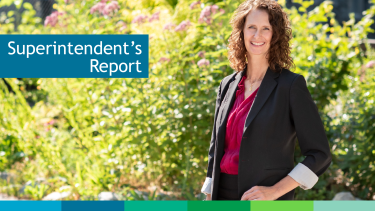 A sense of community, an ability to embrace kindness towards oneself and toward others and feeling the joy of physical movement – these are three themes that you will see in this March report. These are also important elements for each child to excel in school and in life. 
You'll read about the community of Salmo and how it has fostered a culture of winter physical activity and achievement at Salmo Secondary by supporting students who want to ski and snowboard. You'll also see numerous examples of the ways students have learned to help others feel included and at home inside their schools. 
These include students at Crawford Bay Elementary-Secondary establishing a Student Voice group, so children's views and voices are heard; Blewett Elementary being, "awash in a sea of pink" on Pink Shirt Day on February 22; and Trafalgar students having a great deal of fun and making a lot of noise at their winter indoor track meet.
Here's to all our supportive communities so fundamental to the success of our schools and to kindness and physical health and well-being. Here's to happy, healthy students who are open and eager to learn. 
May you all have a safe and relaxing spring break!
Trish