Blog
April 5, 2023
Superintendent's Report - April 2023
Image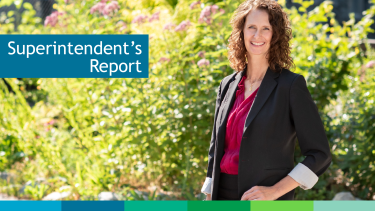 April is a great time to reconnect with one another after spring break, and to reengage with our individual and collective purpose: to support and realize the success of each of our learners as we begin the final three months of the 2022-2023 school year. 
In that spirit of engagement, I am excited to share results from our strategic plan engagement process in this month's superintendent's report. 
Highlights of the process include: 
Six in-person community engagement sessions - one for each of our families of schools - and one live, public webinar between February 13 to 16, as well as an online survey and ideas tool. 
A high level of online engagement through EngageSD8, our online engagement site, with 2800 project site visits and 697 engaged visitors who completed a survey, contributed or liked an idea, or participated in a quick poll. 
SD8 also engaged in person with staff, students, our union partners, Indigenous partners, and other educational partners.
SD8 received over 1500 ideas that have been distilled into five strategic priorities now in draft form and before the Board of Education for review. 
Our draft strategic plan will be shared publicly on our engagement site next week and all input has now been posted to the site and organized by five strategic priorities that emerged from the four questions we asked those who engaged with us in January and February this winter. 
Thank you to everyone who participated in helping SD8 create a new, five-year strategic plan that will serve us from 2024 through 2029. It will function as a road map to ensure all partners in K-12 education work together so that all learners are enabled to develop their individual potential and acquire the knowledge, skills and attitudes to be successful.
Trish